It's October here which means Spring. Although the flowers are blooming and the weather is warming, i continue to inwardly long for fall and find myself making homemade versions of pumpkin spice lattes in the morning. What's a Northern Hemisphere girl to do living in the Southern?
i have had numerous people ask me why i haven't posted anything on the blog lately. It seems time has slipped away from me as i had no idea it has been almost a year since i last posted. Honestly, i have so many thoughts and funny stories to share but i just can't seem to find time to get them out of my head and onto the blog. i know many people will find this oddly ironic but the reason for my lack of time is because my children have started in the New Zealand school system and i am no longer homeschooling. Yes, it is possible to have more free time WHILE homeschooling than when the kids are away from you all day. While homeschooling our days were our own to determine the pace and rhythm. A pace that let us do whatever we wanted. Some days it was school work and writing, some days i made them do my housework and other days if we wanted to hop on a boat and explore a neigboring island because it was a beautiful sunny day we could.
Tiritiri Matangi Island a Wildlife Sanctuary which is a 30 minute ferry ride from us
Which means it is a really cool place to walk around and see nature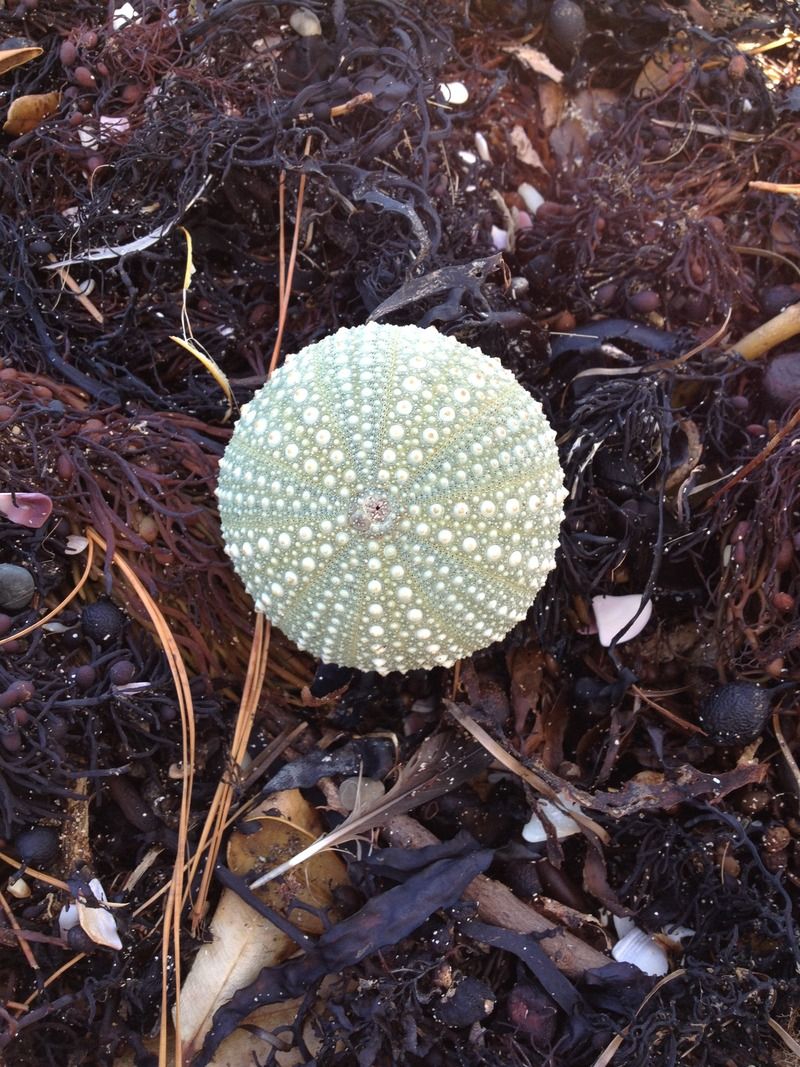 Hello kitty rock bows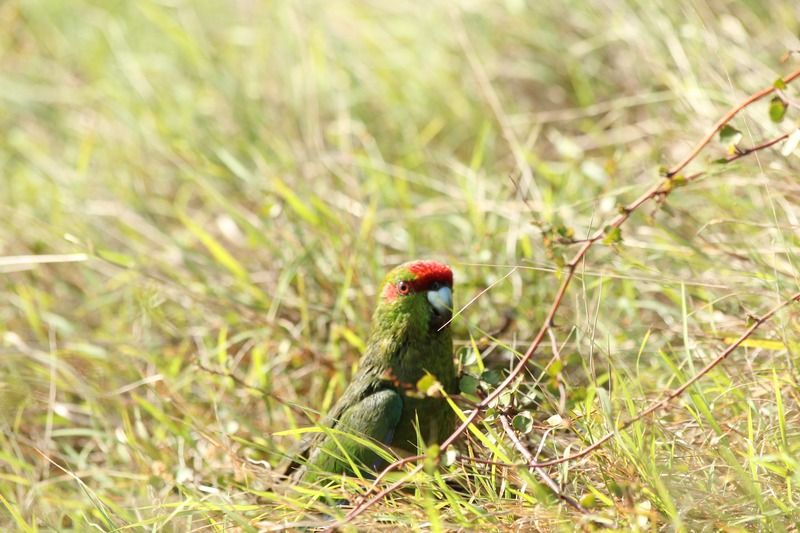 As of February of this year (which is the beginning of the school year here in NZ) the kids started Year 5 and Year 8 in the NZ school system. Which let me translate for you... means 4th grade and 7th grade and new time constraints. Lots of changes for us in the process. Although the kids were in a school in Dubai it was an American School so although there were 90 different countries represented at their school, it was an American based curriculum. We understood the structure, terminology and expectations. However, now we are in a completely different school structure and we have been wading through new waters.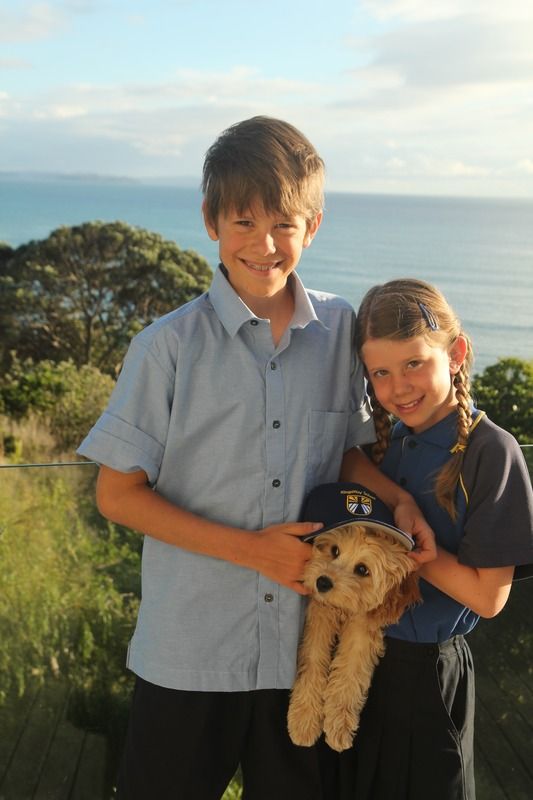 (Oh, and we have a new puppy which also time consuming. Meet Pippa)
First off all NZ schools have strict uniform policies. Children are required to wear school specified shoes (more on that later) socks, shirt, and shorts. Yes, shorts have been the hardest thing for us to adjust to. No matter the temperature my children are sporting little bare knees. i often am driving them to school in layers of clothes, my Ugg boots and warming my hands around a steaming mug of coffee. The temp in my car says 3 degrees and even when we convert it to Fahrenheit, 37 is still too cold to be wearing shorts. Thankfully they are allowed an extra layer of clothing on top when they get too chilly!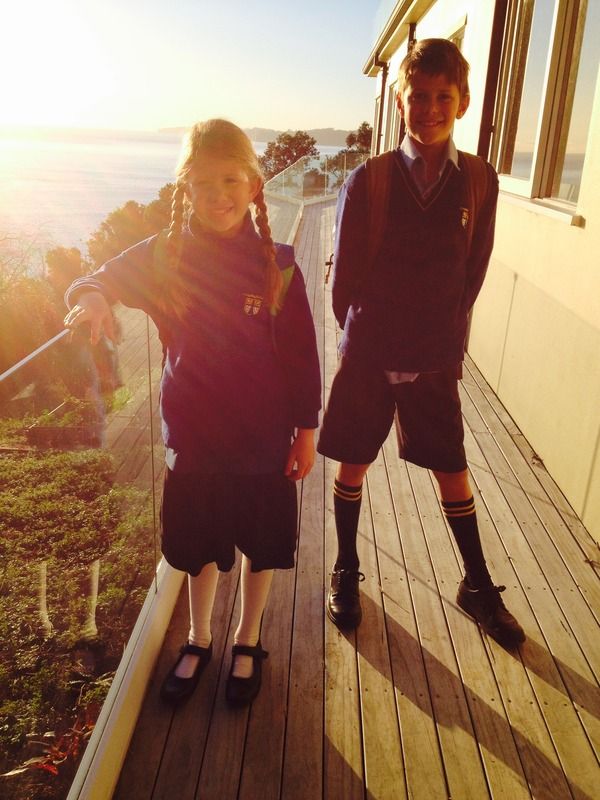 We were told the first week of school there would be a "Powhiri" or welcome assembly. We later understood this to mean... "Welcome to the great unknown."
You see The ENTIRE hour long Welcome assembly was spoken in Maori with no translation of any sort. Maori are the native people of New Zealand and the language would sound similar to what you might hear in Hawaii. (According to NZ stats though only 20% of Maori can hold a conversation in this language.) We had absolutely no idea of anything that was said throughout the entire assembly but then neither did the rest of the audience. The only part that we did understand was the "hongi" or traditional Maori greeting that occurred between the adults leading the ceremony. The hongi could be considered the island's form of a handshake. (Even Prince William and Princess Kate embraced a hongi while visiting in NZ)
Hongi Photo borrowed from businessevents.newzealand.com
We have been introduced to other terminology besides the few token Maori words, in order to make it through the school year. "On Purpose Day" at school for Kyle's class means this...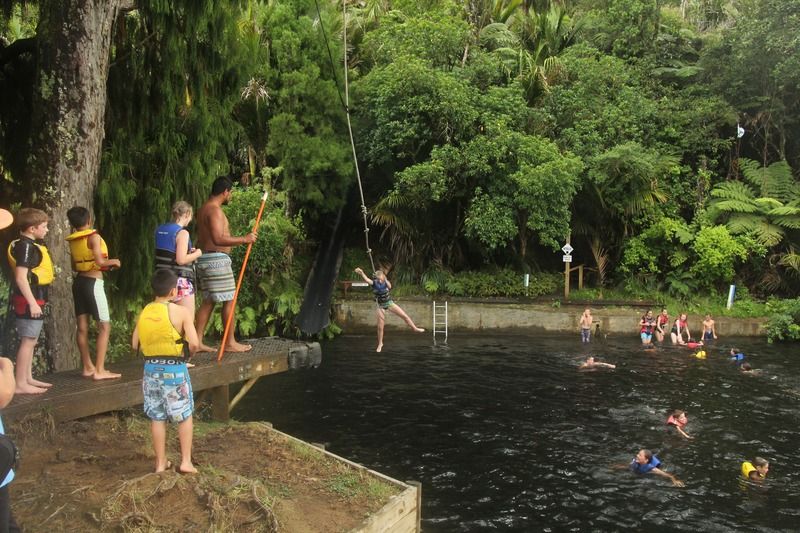 leaving school for a day to swim, swing and slide
in order to get to know each other better.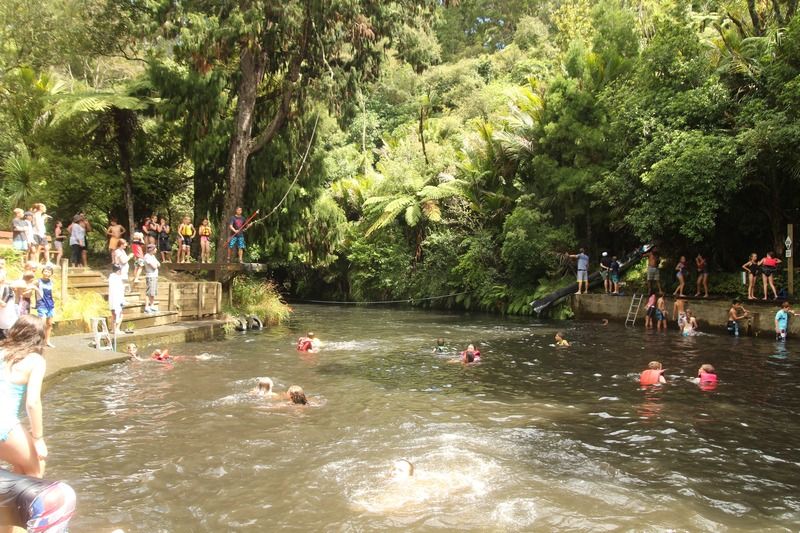 i still don't get why it was called "On Purpose Day" but whatever, it was lots of fun!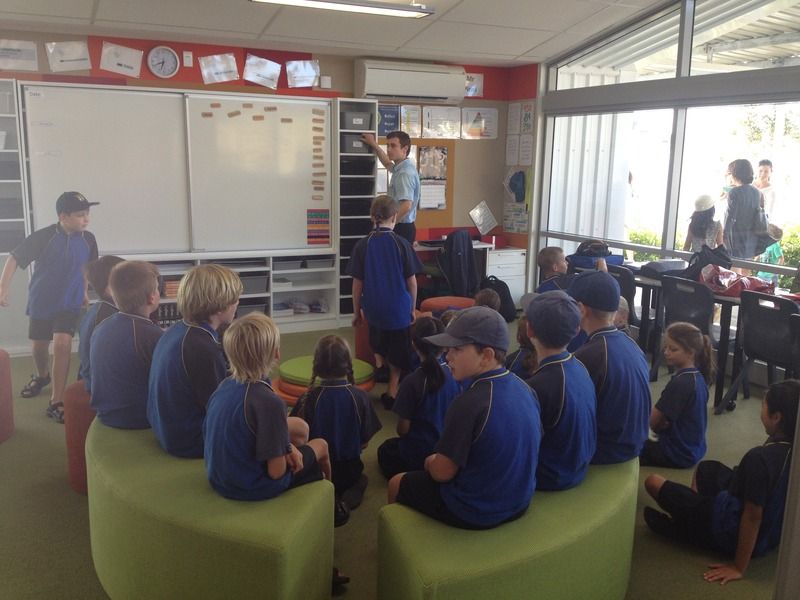 Riley's classroom isn't traditional. She learns in a studio. The picture above is called her Home Base which can serve as an instructional area. It is a small all glass cubicle of sorts with cushions and benches to sit on. These rooms then open up to a greater area that connects with 2 other grade levels and a library. Students can study on the floor, on a cushion, at a table or with a friend. Wherever it suits them. They are taught in small groups and whole class lessons rarely happen.
The larger area where 3 grade levels converge. Even though i have a background in teaching this whole system is a bit overwhelming.
Schools run on a 4 term system. That means we will have 9-10 weeks of school and then 2 weeks off. School starts in February and ends just before Christmas. Classes run from 9am -3pm with only a morning tea break and a lunch time. There are also lots of sports day taken throughout the term where students take the day off to SPORT.
My personal favourite being Surf day where parents can join in.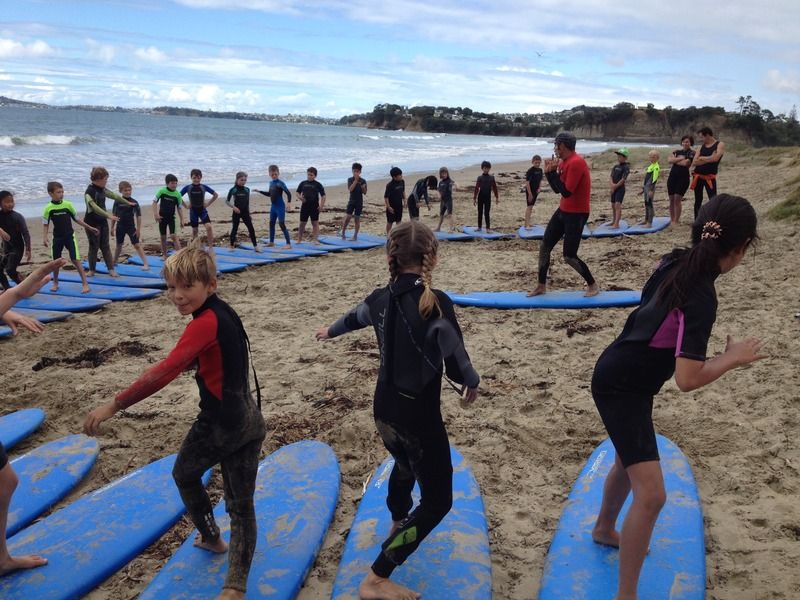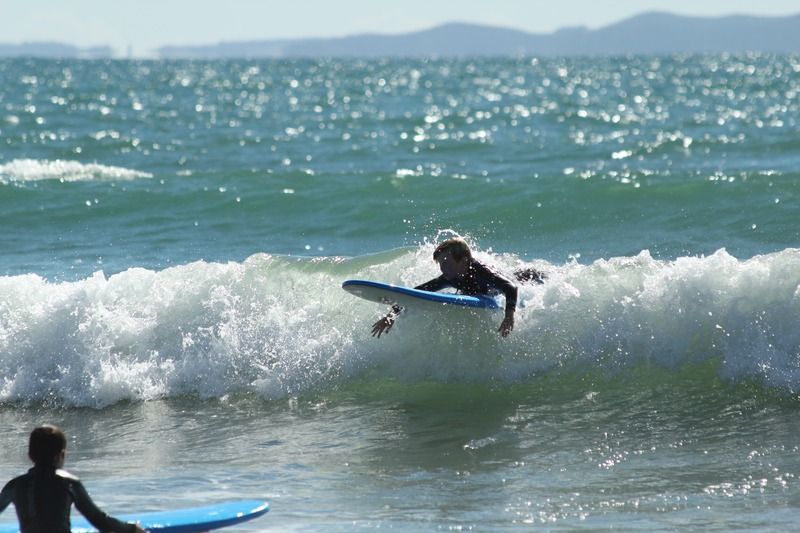 There is also field hockey, touch rugby, netball, and cross country.
Which by the way brings me to the topic of SHOES! i have touched on it before but i can't help but revisit this again because after 2 years here, i personally still can't get used to it. i do find my own children buying into the philosophy though. SHOES are NOT REQUIRED. In fact for PE my children are told to take OFF their shoes.
Riley putting on her shoes before she goes HOME from school!
The lost and found drawers at school are filled with SHOES, not hats and sweatshirts. Pairs and pairs and pairs of shoes.
Cold enough for a jacket layer but still no need for shoes.
And the school cross-country run? This was the note that came home to prepare us for the day.
Some parents were discussing their disappointment in how kids had to run a portion of the cross country trail on a concrete path instead of muddy trails. Apparently in the past all cross country events were run shoeless and in muddy slippery terrain. Although shoes were advisable many kids still ran 4K without.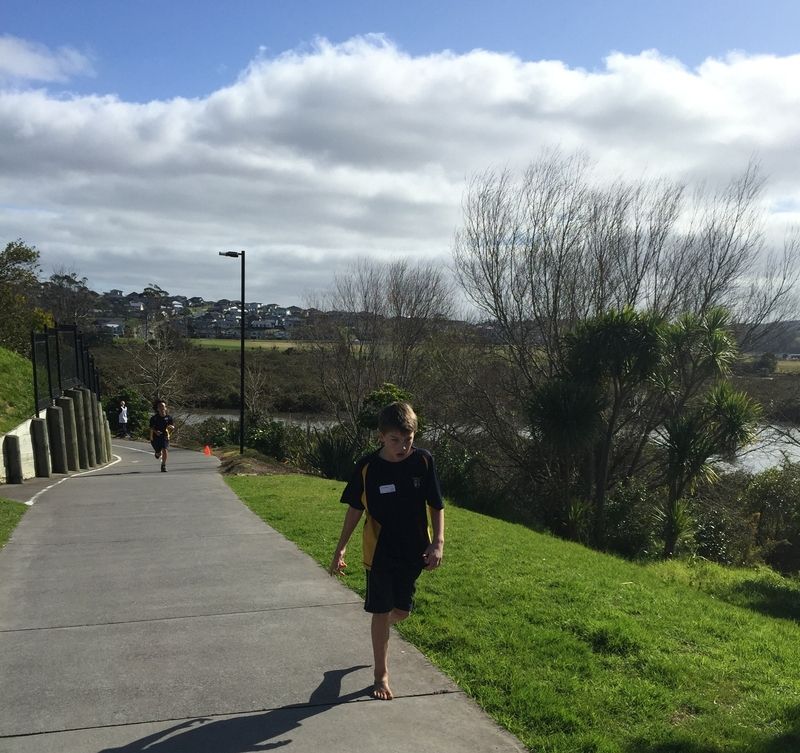 My kids did run with shoes but mama had to show them how to remove the mud encrusted mess at the end of the day. Barefoot sure makes for easier cleanup.
The process of starting school has been a good one. We are learning to adjust, appreciate and roll with the differences. The kids have made lots of new friends and are happy at school. There are definitely some advantages to a bit more laid back school system. The whole process has been another reminder that each country is unique and comes with its own culture regardless of my preconceived ideas. i will be honest that at times i have had to ask dumb questions of my friends, inquire what words mean and show up to events and places completely unprepared because there are enough subtle differences here that make us stand out. Comments that we add to conversations are sometimes returned with blank stares. It's keeping us humble and reminding us to laugh at ourselves.
i will also add it is making an impression on my children. i am frequently hearing them call me mum and the other day when i picked one child up from school they showed up to my car with NO SHOES!